5 Year Celebration Recap
Published on Apr 24, 2017 by Derek Eder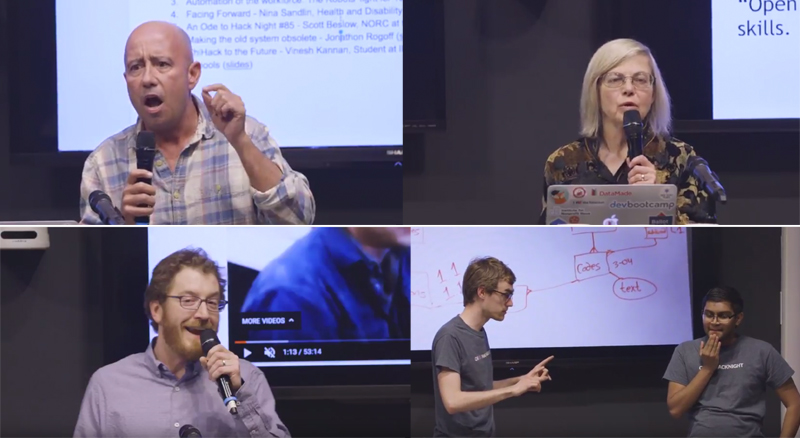 April 18, 2017 was our 250th episode of Chi Hack Night and 5 year anniversary.
For this special hack night, we asked for presentations along the theme of 5 years forward / 5 years back. We also wanted to open up the format a bit and encourage other kinds of performances, including talks, poems, songs and skits.
Here are the 7 lightning performances. You can also watch them all on our YouTube playlist.
1. Commissioner John Fritchey: Cook County Honorary Resolution
To kick off our celebration of Chi Hack Night's 5 year anniversary, Cook County Commissioner John Fritchey presented an honorific resolution commemorating the event. You can download a copy of resolution 17-2735 here.
Here's the ceremonial copy:
A Resolution of the Board of Commissioners Cook County, Illinois honoring 5 years of Chi Hack Hack Night. Thank you @johnfritchey! pic.twitter.com/RTVolSxvuZ

— Chi Hack Night (@chihacknight) April 19, 2017
2. Kevin Wei: The 5 P's of Civic Tech
Kevin Wei, wrapping up his role as Microsoft Civic Tech Fellow, tells his story of Chi Hack Night, and the 5 P's of Civic Tech: Policy, People, Presence, Productivity & P'Onboarding.
3. Dave Chary: Automation of the workforce: The Robots' fight for 15
Dave Chary discusses the effects of business automation on the workforce and what repercussions this may have on the local and global economy.
4. Nina Sandlin: Facing Forward
Nina shares a bit about prosopagnosia and highlights some of the faces she's met at Chi Hack Night over the years.
5. Scott Beslow: An Ode to Hack Night #85
A poem about sewage in the river, crap in the lake, and the next five years of open water data in Chicago.
6. Jonathon Rogoff: Making the old system obsolete
Jon gives a brief discussion on his background, where he was 5 years ago, what he's doing today professionally and with Legislated, a Chi Hack Night breakout group striving to make it easier for citizens to participate in the State legislative process.
7. Vinesh Kannan and Andy Rasmussen: ChiHack to the Future
Vinesh Kannan (Michael J. Fox), a 25-year-old college student in the year 2022, is accidentally sent 5 years into the past in an empanada-powered "time machine" invented by his close friend, the maverick scientist Andy Rasmussen (Christopher Lloyd).
---
About the author
Derek Eder
Derek is an entrepreneur, developer and one of the leaders of the civic technology community in Chicago. He is a co-founder and partner at DataMade — a company that tells stories and builds tools with data — and is the lead organizer for Chi Hack Night.