Donate to Chi Hack Night
Support Chicago's civic tech community
Chi Hack Night is a free, weekly event in Chicago to build, share and learn about civic tech. Our community is at the center of Chicago's civic technology ecosystem.
We are the place in Chicago where civic tech partnership and innovation happens, resulting in new non-profits like mRelief, citizen advocacy campaigns like My Building Doesn't Recycle, and government innovation like the City of Chicago's Clear Water Project.
Donate to Chi Hack Night
Why donate? You'll feel good (also swag!)
Chi Hack Night will always be free and accessible to all but we need your help to keep it going!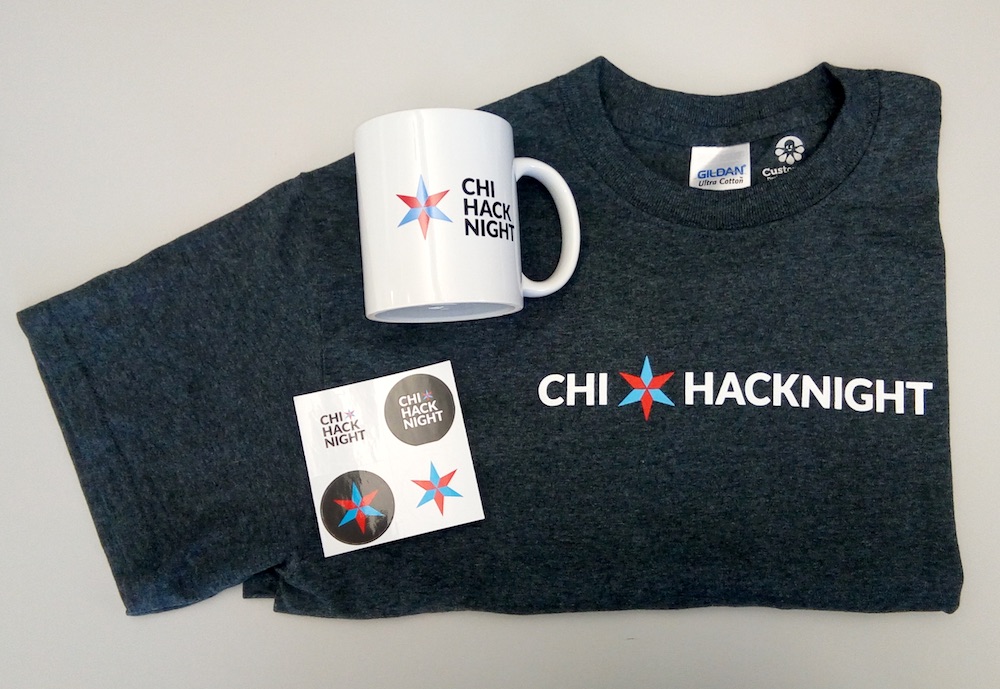 The Chi Hack Night swag pack!
$100: Swag pack
Donate $100 or more and get a Chi Hack Night swag pack! It includes:
Chi Hack Night t-shirt
Chi Hack Night coffee mug
4 Chi Hack Night stickers
$250: Your name in lights
Donate $250 or more and get the swag pack and your name prominently displayed on our website.
Fun fact: donating $250 will cover the cost of food for one person who attends one year of Chi Hack Night (50 events).
Note: all items must be claimed in person at Chi Hack Night.
What we spend the money on
Chi Hack Night operates on a budget of roughly $60,000 a year. We are organized by Derek Eder, Christopher Whitaker, Emily Drevets and members of our Leadership Council on a volunteer capacity. Event space is hosted at Braintree and DataMade acts as the fiscal sponsor.
For each of our 50 annual events, we provide:
Free food for all attendees (between 100 - 150 people)
A professionally recorded and edited video of that night's presentation posted on our public YouTube channel
American Sign Language Interpreters
Since 2017, we have also run community Chi Hack Night events in Washington Park, Englewood and Logan Square.
Please note that Chi Hack Night is not a 501(c)(3) and donations to us are not tax-deductible.
Want to learn more? Chicago Tonight featured Chi Hack Night for our 300th event. Check it out!