Introducing Remote Chi Hack Nights
Published on Mar 16, 2020 by Eric Sherman , Derek Eder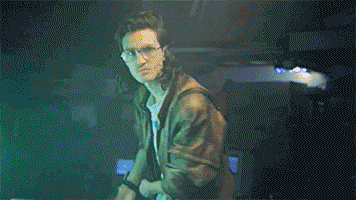 Hackerman says: "If its Tuesday, its hack night! Now go forth and hack!"
Due to the ongoing outbreak of COVID-19 (Coronavirus), in-person Chi Hack Night is Postponed Until Further Notice.
Are you already feeling that Tuesday night void? Looking for a way to help out and contribute during the COVID-19 outbreak?
Chi Hack Nights are going remote! Same time, but now from the comfort of your own home / quarantine location!
Here's how you can participate in Remote Chi Hack Nights:
Tune into our livestream every Tuesday at 6pm with weekly presentations, Q&A and civic hacking!
Join the Chi Hack Night Slack (What is Slack?): http://slackme.chihacknight.org/
Once you're in, join the #chihacknight-remote channel. This will be the virtual hangout for Remote Chi Hack Night. Members of Chi Hack Night's Board will be around to answer questions, provide resources about working remotely, share memes, talk and create a positive space to hang out in.
Existing breakout groups can also pitch their projects in this channel. You can also start a new breakout group if you'd like! Want to learn more about starting a breakout group? Read this informative blog post.
As always, our Code of Conduct will apply to this new mode of hack nights. Some basic etiquette also goes a long way towards making the experience fun and useful for everyone!
Do you have feedback, questions, concerns, or comments you'd like to share that aren't related to a particular breakout group? Feel free to share them by reaching out to info@chihacknight.org. We know this is a new situation for everyone, and we are here to support our community in the best ways we can!
Resources and actions to slow the spread of COVID-19
Chi Hack Night now has a #covid19-response channel you are welcome to join for sharing resources, info & opportunities to help specifically with this crisis. Here's a few great examples we've shared out so far:
#FlattenTheCurve A one-stop place with practical knowledge and tips on COVID-19, and what each of us can do to slow the spread of the virus: Flattenthecurve.com
Updates from the City of Chicago For the most up-to-date information on the Coronavirus outbreak and prevention efforts in Chicago: https://www.chicago.gov/coronavirus
Donate to the elderly and those with disabilities My Block, My Hood, My City is gathering hand sanitizer, disinfectant wipes and Emergen-C to distribute to elderly or who have disabilities. Donate or make a Request here: https://www.formyblock.org/viralresponse
The Coronavirus Tech Handbook A great collection of tools, websites and data relating to the Coronavirus outbreak. If you're building a project, please submit it! https://coronavirustechhandbook.com
Find and Join a Mutual Aid Group A compiled list of over 100 Covid-19 Mutual Aid groups around the country.
Even more COVID-19 resources For more, Chi Hack Night Board Member Cameron Sow is organizing these resources and more here.
---
About the authors
Eric Sherman
Board Member, Chi Hack Night
Derek Eder
President, Chi Hack Night