#179
How does CPS's budget crisis affect my school?
---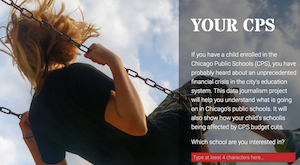 Each summer, Chicago Public Schools (CPS) comes up with next-year's budget for each school, but this year is different. With ballooning pension obligations, the country's fourth largest school district is in crisis.
To help parents and students dissect the budget crisis and know what the specific impacts would be on his/her school, Lingwei Cheng and Patricia Gomes from the Northwestern University Knight Lab built Your CPS, a data-driven dynamic article that delivers personalized and interactive content about every CPS school.
---
Agenda and meeting notes
Sponsor
GitHub
---
Flickr photos from Chi Hack Night #179
Have a photo of this event? Upload it to Flickr and tag it with chihacknight179