Open Gov Hack Night: 2014 Year in Review
Published on Jan 6, 2015 by Derek Eder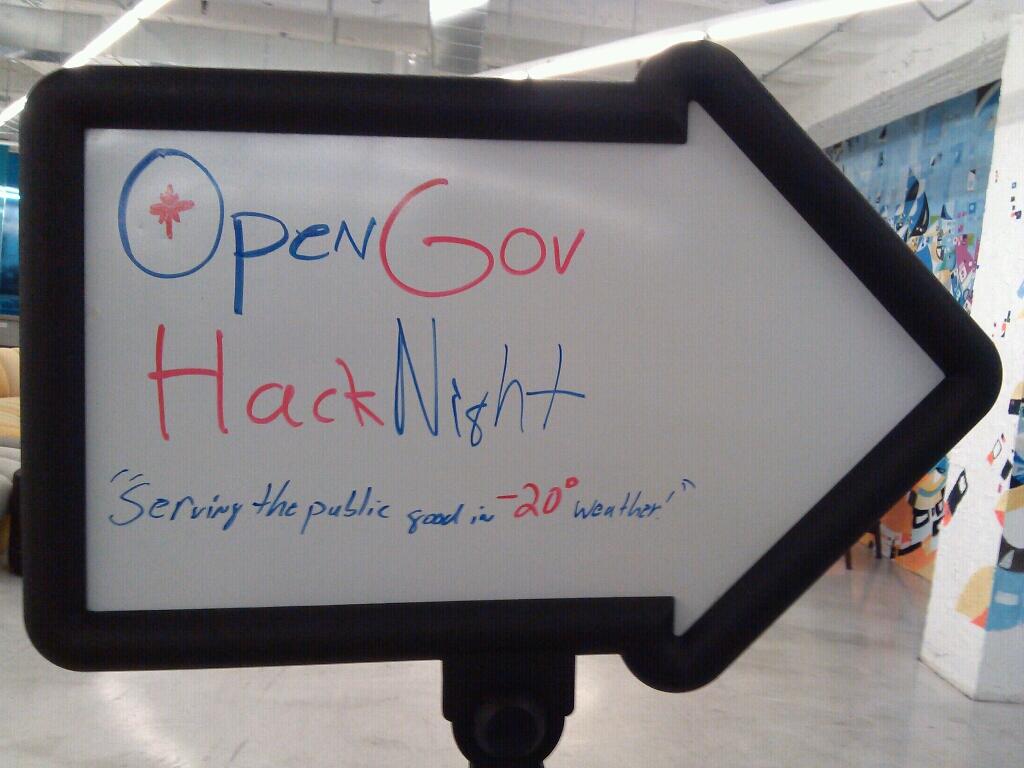 Open Gov Hack Night: Serving the public good in -20° weather. Photo by Nina Sandlin.
The Open Gov Hack Night is Chicago's weekly event to build, share, and learn about civic tech. And, boy, was it ever a place to do just that in 2014. Looking back over the last calendar year, we did a lot - too much to recount in one blog post. But I can hit the highlights!
First, because we love data, here's some stats for 2014:

A full room at the Open Gov Hack Night. Photo by Christopher Whitaker.
New in 2014
Open Gov Hack Night Leadership Council
Back in June one of our beloved organizers, Juan-Pablo Velez, moved away to some place called New York City (miss you JPV!). Concerned with the longevity of our event, I decided to ask the community for help with organizing. Would anyone be interested in stepping up their involvement with the hack night? Turns out the answer was a BIG FAT YES. 16 people showed up to that meeting. The first Open Gov Hack Night Leadership Council was born!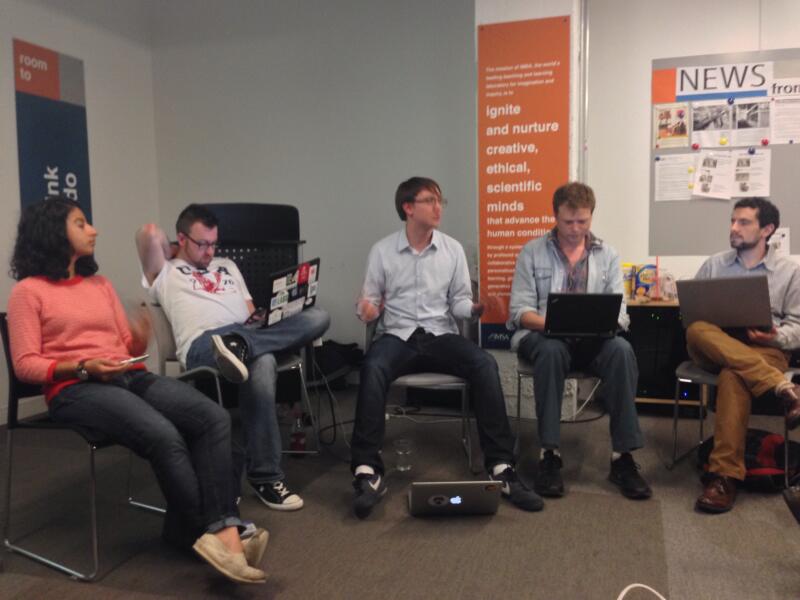 @stevevance: "Discussing the future of #chihacknight on Tuesday. Testing something new on Tuesday w/knowledge expert groups"
Since then, we've held regular Leadership Council meetings every 4 weeks. They are free for anyone to attend who is interested in being involved in running the Open Gov Hack Night, suggesting new initiatives, and providing feedback. It has led to a much more robust, thoughtful, and productive community. In fact, everything else I'm about to list came out of this group. That's democracy for ya!
Breakout groups and topic facilitators
The first idea out of our Leadership Council was to try organizing working groups based on particular topics. Because the hack night averages anywhere between 50-80 people every week, with a good 30% being there for the first time, we've had trouble onboarding people to projects. Christopher Whitaker's Civic Hacking 101 session helped, but there was often a gap between that and diving in to a project.
Elnaz Moshfeghian suggested that if there was a core group of people that got together to talk about and work on education-related projects, she'd be there every week. The seed was planted for dedicated people to act as topic facilitators and run their own working groups on the topic of their choice. Scott Beslow started the environment group. Steven Vance started the transportation group. The rest is history.
Breakout groups are now a regular part of the Open Gov Hack Night structure. We have 8 permanent groups led by 13 topic facilitators, and anyone is welcome to start their own.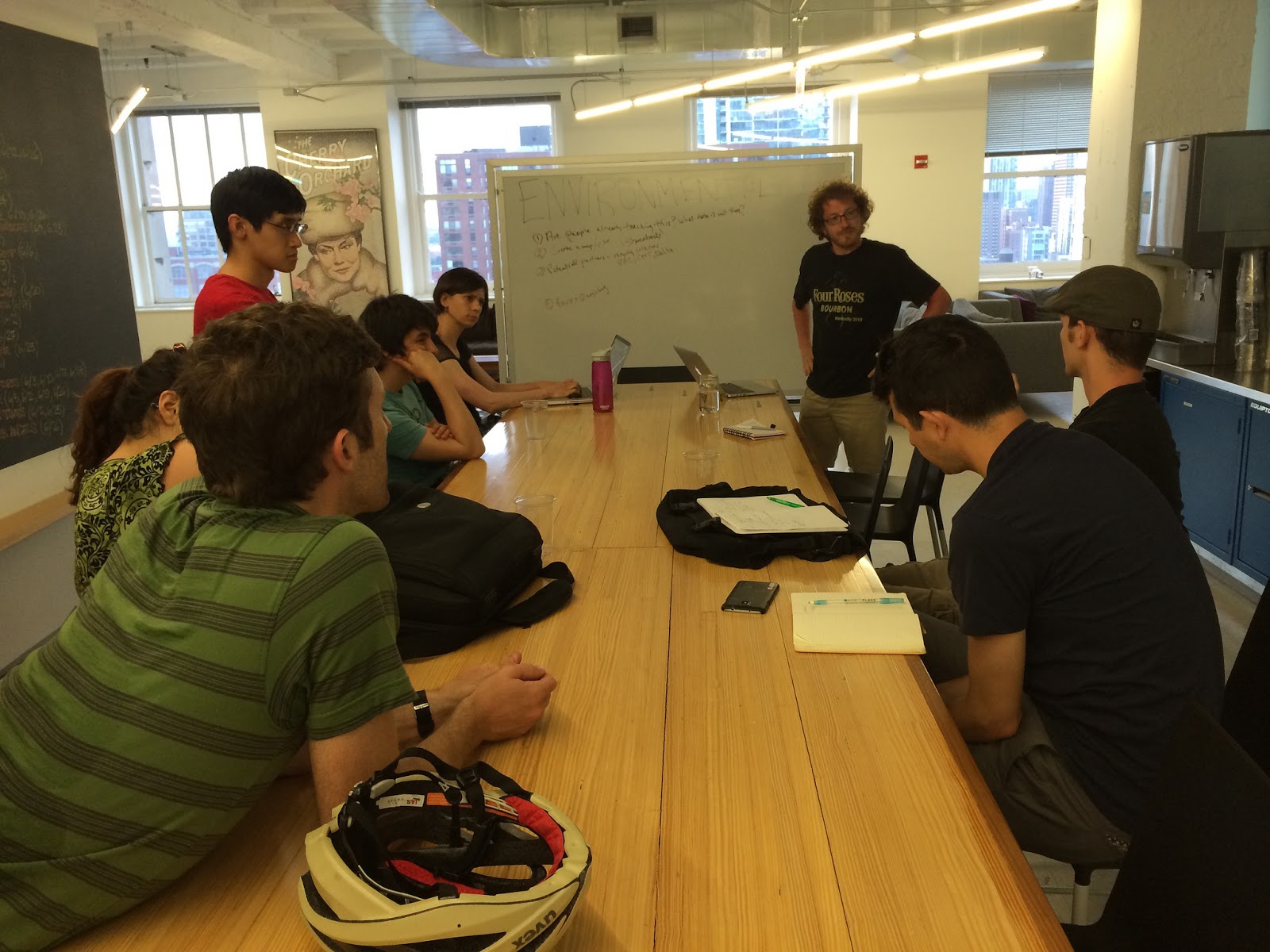 Scott Beslow and the Environment breakout group. Photo by Christopher Whitaker.
GitHub joins on as a recurring sponsor
GitHub, after sponsoring a few one-off events, has joined DataMade, Code for America and ThoughtWorks in being a recurring sponsor for the hack night (meaning they buy the pizza).
We love GitHub, and use it to host the code (and sometimes the websites) for our open source civic tech projects. Their API also powers our open source civic projects directory, which has since been forked by Code for America for their Civic Tech Movement API. Turns out, GitHub loves us back!
Code of Conduct
As our community has grown, we want to make sure our events create a fun, safe, respectful, inclusive and productive space for everyone who wants to participate.
In December, we drafted a Code of Conduct for our events. It features 10 expectations of our community, as well as an Anti-Harassment Policy. It was written collaboratively by members of the Open Gov Hack Night community and adapted from the Code for America Code of Conduct.
Moving to Braintree
Starting on January 13, 2015 the Open Gov Hack Night will be hosted at the Braintree office on the 8th floor of the Merchandise mart.
Our event has long outgrown our space at 1871, and we're excited to use Braintree's atrium and meeting rooms for even more civic hacking!
A huge thanks to 1871 for hosting us for two and a half years, and another huge thanks to Randy Baxley for making the connection!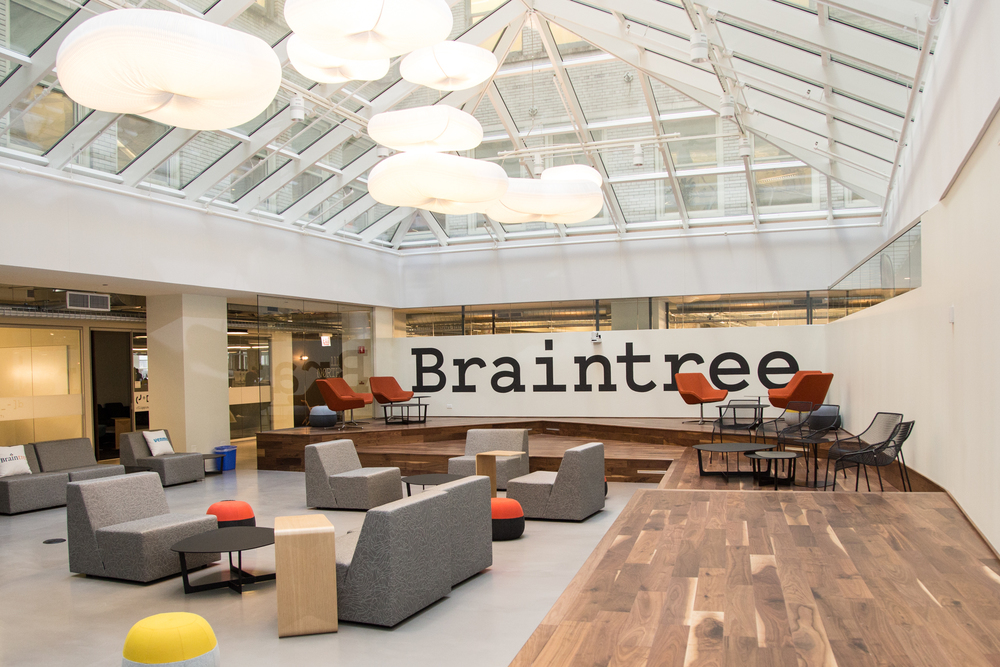 Our new space: Braintree's Atrium. Photo by Braintree.
Presentation highlights
As I mentioned, we had 41 presentations in 2014. Below are some of the highlights. Thanks to Christopher Whitaker for all his work recording and editing these videos.
#96 Chicago CIO Brenna Berman on Procurement
Brenna Berman, the Chief Information Officer for the City of Chicago, fielded over an hour of questions, suggestions and feedback from us on the City's technology procurement policy.
#97 Daniel Hertz - Zoning in Chicago
Daniel Kay Hertz, urban planning wonk and writer of the City Notes blog talked our ears off about why low density zoning in Chicago is … not good.


Divvy, Chicago's bike sharing system, released data on over 750,000 anonymized bike trips and held a competition to see who could make the best use of the data. The winners were announced at this hack night.


#103 Experimental Station
Danny Burke and Daniel Evans from Experimental Station talked about the 61st Street Farmers Market, including their food access programs around food stamps, value incentives, table counts and consumer behavior within the context of food justice on the south and west sides of Chicago. I learned to savor every avocado I'll ever eat.


#106 Why Don't We Own This? / Loveland!
Jerry Paffendorf, CEO at Loveland Technologies, talked about the amazing work his outfit has done in Detroit, from opening up property data through Why Don't We Own This, to fighting blight by helping residents buy vacant properties from local governments, to surveying every single property in the city through their Motor City Mapping project. Some truly inspiring work.


#117 Honorary Chicago
Linda Zabors, one of hack night's very own, talked about her work mapping and app-ing Chicago's brown honorary street signs with Honorary Chicago. We learned about location based biographies and the stories they tell. AND she wrote a book about it: Honorary Chicago Guidebook: Guide to Chicago's Honorary Streets and Commemorations.


Alex Bordens and Alex Richards discussed how the Chicago Tribune analyzed more than 4 million red light camera tickets and created an interactive database to help readers find out if they were ticketed during a suspicious ticket spike. Making an app is one thing. Getting the data for it out of government is another. A really informative presentation.


#125 Data + Design, An Open Source E-book
Trina Chiasson showed us Data + Design: A simple introduction to preparing and visualizing information, a 300 page open source e-book written by more than 50 people in 14 countries. We learned about the process of writing a collaborative, global, open source book. And we liked it.

#126 Chicago Public Schools Website Redesign
In August, the Chicago Public Schools (CPS) website was redesigned from the ground up by their own internal web team. The new site offers a simple, modern, lightweight user interface that works on any device (phone, tablet, laptop or desktop).
Jay Van Patten and Ted Canji from Chicago Public Schools talk about their efforts and challenges to build a mobile friendly website with internal resources for the third largest school district in the U.S. It turns out, they were inspired to do their work by the Open Gov Hack Night community!
Maryam Judar, Executive Director and Community Lawyer at Citizen Advocacy Center (CAC), a nonprofit, nonpartisan legal organization with a mission to build democracy by ensuring that the tools and institutions that support public participation in the government public policy decision making process are robust.
Maryam shared with us how CAC and its clients use data to monitor their local governments for efficiency of resources as well as to root out abuse. They will also file a FOIA for you. For free.
#131 Social Service Eligibility with mRelief
Rose Afriyie, Marina Goldshteyn and Ellie Day demoed mRelief, a site that allows anyone to check their eligibility for social service benefits in Chicago and Illinois. The site, catalyzed by the Open Gov Hack Night, has already launched in the Martin Luther King Community Service Center on South side of Chicago.

#132 Open Source Tech at the American Red Cross
Jim McGowan demonstrated how the American Red Cross has transitioned from managing daily disaster responses with paper, Word docs and Excel spreadsheets to a volunteer-created, open source, incident management and responder scheduling application.

DCSOps (short for Disaster Cycle Services Operations) is used to dispatch and track more than 2,300 disasters annually in the 13-county Greater Chicago Region and has recently been deployed in New York and Los Angeles.
Here's to 2015!
It's hard to imagine we did so much in just a year. 2015 will bring more presenters, more partners, more civic hackers, more government technology transformation, more citizen advocacy, more democracy. And more fun!
See you next Tuesday!
---
About the author
Derek Eder
Derek is an entrepreneur, developer and one of the leaders of the civic technology community in Chicago. He is a co-founder and partner at DataMade — a company that tells stories and builds tools with data — and is the lead organizer for Chi Hack Night.